Jokerball met rippinlip and I in the hotel parking lot early Sunday morning. We drank hotel brewed coffee with blue berry muffins. We chatted a bit to let the morning thaw out some before traveling to the creek for some steelhead trick'n and hopefully be treated well.
When our trucks turned the corner we found 20 other vehicles parked along the roadside. We thought the crowd of trick or treat'rs was going to make our visit much more crowded but we didn't have an alternate plan. We dressed into our costumes for the day, grabbed our gear and headed down to the creek.
Jokerball was dressed as a homey complete with a hoodie and dark reflective shades. Rippinlip looked like a long time bush pilot in his camo coat, unshaven face and even had a cigarette hanging from his lips. With my camel colored Eddie Bauer fishing jacket, LLBean cap and Orvis sling pack I probably looked like a long haired floor model for name brand fishing gear wear.
When we got to the water we found there was only a few trick or treat'rs at the first watery hole. I selected to take the guys downstream to another neighborhood to do some trick'n. When we made the next bend there stood Deetz, looking like Capt. America in red, white and blue wardrobe. Bingsbait came over to greet us looking like an Everglade guide in his neoprene wet suite looking hip waders and Australian top hat. We didn't waste much time chatting as there was trick'n & treat'n to do. Deetz and Bings mentioned they had a few hook-ups earlier and were planning on heading downstream in a short. We were anxious to get started and with visible steel in front of us we proceeded to try a few of our tricks to get them to bite. Deetz and Bings headed downstream after a bit and we stayed put for some time trying to coax the steelhead.
Jokerball got treated first and the steel gave him a good tussle. He had the steel close to shore when it turned for one last surge and escaped right before our eyes. I hooked up next with one of my ghost triple threat patterns. The silver took me around the block with tight turns and lightning speed. I kept my cool and got him to hand and a hero shot. He wasn't a huge steel but the silver put up a great fight and I was satisfied with my treat. At the end of the pool Jokerball hooked up again. He played this one like a homey that owned the neighborhood. This steel couldn't find a way out of Jokerball's grasp and finally succumbed to the feet of the master.
While Jokerball and Rippinlip continued to work the pool over I ventured downstream for a new environment. I slowly fished my way casting in every available pocket I thought I could find a treat in. My patterns weren't tricking any fish just yet but I wasn't getting discouraged so early in the morn. Two fishermen were working the next big pool I came across with signs of experience. As I walked behind one of the fellows he turned and looked me straight in the face as if he knew me. After I said hello, he recognized me in fishing this same creek a few weeks ago in high and muddy conditions. I confirmed his accusation that I was here. I felt my costume failed to disguise my identity.
Wading through the shallower riffles of water I kept my vision towards the far bank where a faster stream of water flowed. A few dark fish gave up their positions behind submerged rocks with the swatting of their tail fins to hold them in the current. I felt the triple threat would swing too fast in the quick current and decided on a golden sucker spawn for more visibility. Within a few casts and drifts I got a good read on the current and finally got a good drift towards the holding fish with an upstream mend. I guided the spawn towards them as I followed the fly line with the tip of my rod. They didn't take the trick as I watched the sucker spawn drift by them and down into a semi-deep pool as the current flowed towards a big uprooted tree trunk. From there, the water rushed up against the uproot in violent turmoil and then emptied into a big deep pool a couple of other fishermen were fishing. As I pulled the sucker spawn out of the water a light colored male steelhead took up residence beside the other two in less current and greater visibility. I made an upstream roll cast that landed the sucker spawn near the far bank. With a quick upstream mend and pulling line towards me I felt I had the spawn drifting in the location of the new comer. I followed behind the spawn with my rod tip letting my treat sink deeper with the flow. My fly line tumbled above and I lost sight of my golden sucker spawn. A quick lift of the rod and it flexed downward with the hook set. The unsuspecting fish slashed at the first feel of the hook point penetrating into the corner of his jaw. It turned down toward the uproot and I quickly swung my rod downstream, horizontal with the water, and toward my side of the creek. The instant pressure kept him from the uproot but he kept his surge and swam with the fast undercurrent into the deeper pool.
"FISH ON" I called out to let the other guys know the steelhead was going to disrupt their fishing momentarily. I fought the fish well and he gave me a real treat for my effort. I got the fish to shore, unhooked him, and watched him swim away into the darkness of the deep pool.
I tried for the other two but came up empty. I looked upstream and the two fellows that knew me were still fishing the pool with long drifts. I walked up creek from them and tied on my ghost pattern. With a cast to the far shoreline I lifted the rod some and let the triple threat swing like a dying minnow. It didn't take long for a heavy silver to take the ghost pattern. She slashed upon the water with each lift of my rod during the fighting ordeal. After each slashing and splashing she used her weight and power to muscle the rod and line out further up creek. I had to give her line a couple of times while palming the spool. After I felt her slowing down I double clicked the drag tighter and put more pressure on the spool the next time she tried to pull away. I stood my ground and planted my feet. With my strength I worked the rod against her will and finally won out. The female steelhead came to hand and than swam off healthily upon my release.
When I got back to my trick'n & treat partners they had said they both had a few more hook ups. Rippinlip had a real nice steelhead roped to take back home to his boss. Before we called it a day they took time to dislodge quite a few flies, indicators and angling hooks from overhanging branches.
Back at the vehicles we took off our costumes and relaxed with a beer and cheese and smoked meats that Jokerball had brought. We talked a bit before Jokerball headed toward the other side of town. Rippinlip took the wheel and we jumped on I90 heading towards our Rte 8 exit ramp. Rippinlip lit up another cigarette and I finished smoking my left over stogie I snuffed out before the munchies Jokerball brought.
Though the bite was slow we all got some action for the time we spent. We all had a good day fighting the fish we were able to trick and were satisfied with the outcome of our treats!
_____________________doubletaper
Capt. America
the bush pilot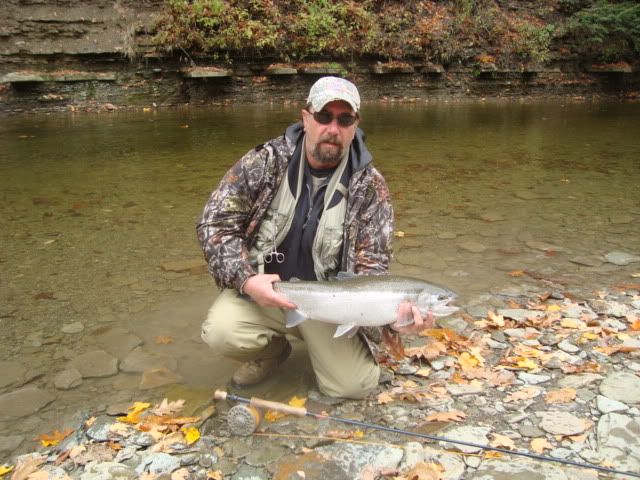 Jokerball in action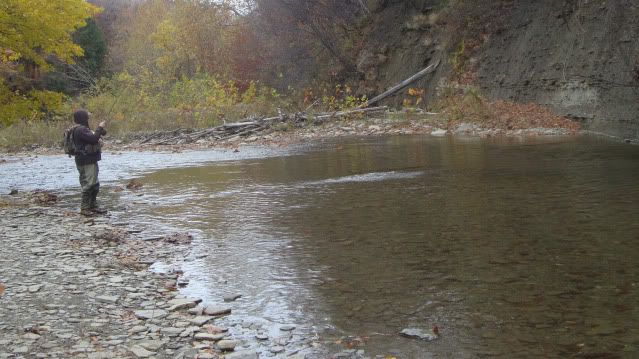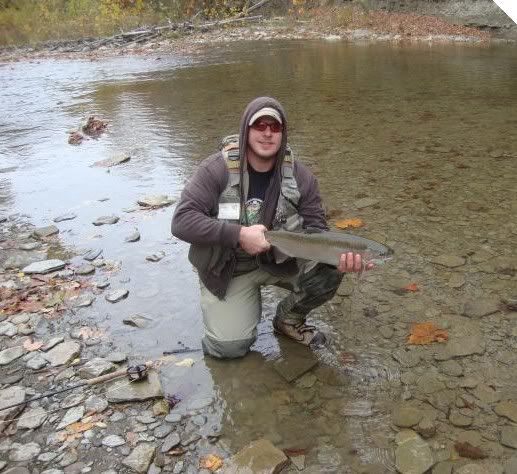 Everglade Guide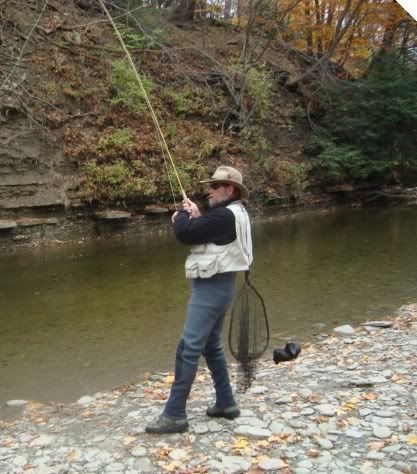 a couple of my catches