My Longest Day
7/03/10
"I had enough, simply had enough of what my fly tying room looked like"
I was just finishing up tying Ginger Quill patterns on Friday when I looked at the tying desk and carpet. It looked as if there was an all out cock fight with plumage and scraps of hackle everywhere. It looked like a peacock and pheasant, at some point, got into a skirmish with a muskrat, a rabbit and a calico cat wearing a beaded collar. My fly tying desk and carpet were covered with the outcome.
I brushed the scraps on the carpet and went downstairs and got the upright vacuum cleaner. I wasn't in the mood for searching for any keepsakes and just started sucking up everything that was on the carpet floor. Hard items tinked and rattled around the beater bar before entering the vac bag. A few CDC feathers went air born before they finally fell, succumbing to the inhaling of the vacuum cleaner. When it finally looked bearable I took the vacuum cleaner downstairs and returned with my last cold bourbon cask ale.
I've been tying for three days straight getting ready to fish the Little 'j' with Dan (thedrake). I know I probably had every pattern tied somewhere for this time of year but I always got to tie a few more for the new stream I'll encounter just before going. #20 dark Blue Quills, #18 tan caddis, Light Cahill's, beetles, yeah, I got them all in 6 different fly boxes in my 12 pocket fishing vest somewhere! A few more wouldn't hurt would it?
My last pattern before bedtime is #12 Humpy's. I'll tie these in yellow, orange and red. Monday I plan on fishing the Clarion River with Jim and Ken and these patterns come in handy in the swifter current. Heck, I might just toss one of these out on the Little 'j' and be surprised. Who know?...
…..After an egg, bacon, English muffin at 4:30am Saturday morning, and finished packing the van, I was soon heading East on I80. White clouds ribboned the early morning blue sky. A burnt orange glow reflected off the lower layer of these clouds from the sun rising somewhere below the horizon. A cup of hot tea, along with Merle on the radio, kept me awake during my near 2 hour drive as I cruised down the interstate in my day tripper mini-van.
It was about 7:50am when Dan met me at the church across from the Spruce Creek shop. 270wbmag, kingtrout and two other fellows met us about a half hour later. We greeted each other and headed up Spruce Creek for an early dose of Dan's choosing.
Dan put the nympher's in a long tail out while Mike went with Dan and me as we worked our way upstream. Mike worked a nymph under an indicator. Though Dan started with a beetle he switched to nymph fishing also. I was still tying my first beetle imitation to a new strip of tippet when I heard Mike and Dan mentioning one of them had caught a trout already.
The dark shadows under the tree canopy made it impossible for me to see the beetle drifting in the moving current along the bank. Normally when trout take a terrestrial in slower current it's with a slurp and don't usually slap at the bug. Without seeing the black foam beetle in the wavy water I wouldn't know if a trout struck it or not.
I was tying a CDC winged #18 BWO on when Dan walked behind me to see how the nympher's were doing downstream. I guess once a guide always a guide, even though he was fishing for fun today.
Midstream, hi-sticking in front of me, I watched the BWO bob atop the wavy current into the tail-out. I saw a fish rise and just like that I had my first trout, a little 6" brown. Not much of a trout but a trout no-less and on a dry!
After a few more casts I switched to a #16 tan caddis for better visibility. I worked my way upstream and at one section, after missing the same trout 4 times, I finally hooked up and landed another.
After an hour or so, while the nympher's were in the parking area waiting for Dan to return, I fished the narrow section of water next to where we parked. While working upstream I missed a quick take in the slow current on a beetle. The next rise I wristed my 7 foot Hardy rod and I felt the hook set in the small trout's mouth. He darted towards me and some how maneuvered the barbless hook free. They do that sometimes, more often than what I'd like.
Back at the vehicles 270wbmag made a 10:30am ham sandwich lunch for the group of guys while I strung up my Scott rod for the Little 'j'.
At the Little 'J' the water was clear and, according to Dan, a little on the low side. The sun was present and hot which may have kept any hatches from happening or fish to feed. Either way after about an hour no one had caught a thing. The nympher's were anxious to move to a different spot. They let us know that they were headed to the project area that they felt more fish could be found. I elected to hang with Dan for the remainder of the day. He suggested we fish some wild brown trout waters and I was all in. I put my gear in his vehicle and he drove us to….
After parking Dan pieced together his 3wt Diamondglass rod he strung up with Triangle Taper line. I didn't bring my Diamondglass so I stuck with my 3wt Hardy Demon. Being a great host, as he is, he let me make the first casts into the narrow waters of the small creek. On my third cast, upstream, my foam beetle fell just shy of the bridge shadow upon the water surface. Whoomp!! And I mean Whoomp! A trout attacked the beetle like it was the biggest mayfly meal emerging from this small creek. The fish dove beneath, after the take, as my 3wt flexed deep into the midsection. As I gripped the rod line peeled from my quest reel and through my tensioning line fingers. We both knew the wild trout was a good one and from the feel I knew he wasn't going to cooperate with me proper. He shot away from us under the bridge and exploded out of the water on the far side. I had my rod out over creek pointing towards the opposite bank. I never saw a brown trout clear water like this boy. Upon returning into the water he fought back and forth before settling near the right abutment on my side of the creek. The trout head shook beneath as my three weight rod tip flexed with each thrust. I kept pressure on, trying to move him from beneath the bridge, but didn't want to force the hook out or over test my 6x tippet or knot strength. He finally turned and came unwillingly towards me. I brought in line accordingly trying to keep every bit of tension pressure on him. He turned a few yards from me and fought beneath a second or two enough making the water surface stir.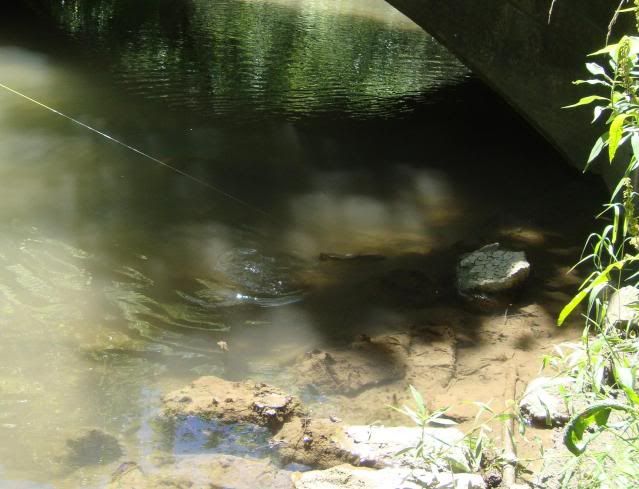 Then, surprising me, he all of a sudden surged towards the middle of the creek. I let tensioned line slip through my fingers keeping the rod high and at an upstream angle. He tugged and pulled from across creek like he had help trying to get free. I kept my cool, excitedly, and waited him out with the bending force of the rod. He finally submitted to the pressure and swam towards us.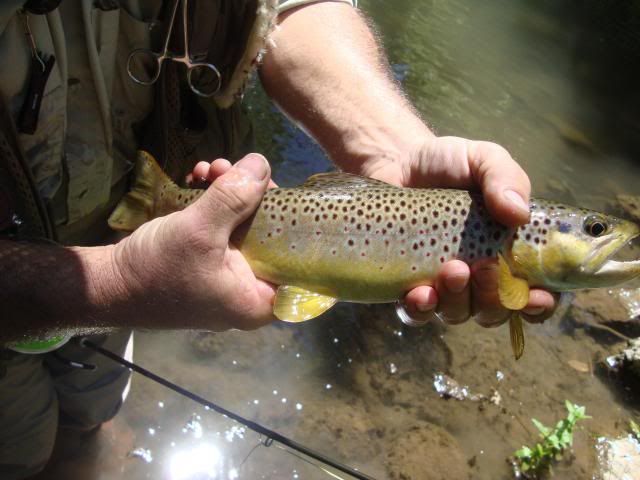 We weren't expecting to catch anything quite this big so neither of us had a net. I got him near enough to the bank and cradled the beautiful wild brown trout firmly with my hands for a good picture. After the photo I unhooked the point from his jaw and gently let him swim out of my hands. He settled down to the bottom for a few seconds before swimming off.
The action was fast and furious so I couldn't remember all the details but I'm sure Dan got an eyeful of the whole ordeal.
Dan had the next go round and soon hooked into a smaller wild brown on a crow beetle. We continued, taking turns, while wading upstream casting our beetle imitations. I hooked into another nice brown after we watched him turn and slap at the dropped beetle. I had him fighting towards me before the hook let loose and he turned free. Dan picked up two more but soon after that no trout wanted anything to do with our beetles or fishing skills.
Dan drove me back to my van and we sat awhile and talked, over a beer, while I ate a sandwich. It was about 6:00pm when he took off. I had been up since 4:20am, fished in the hot sun all day and was planning on taking a short snooze before maybe fishing the Little 'j' just before dark. I drove downstream and parked off the side of the road I was familiar with from years ago. I figured I'd check out the water before napping. Down over the bank I stood upon the green bank and peered out over the water. Sure enough I saw three rises in three different locations on the slow moving flat water. The sun was setting low but its rays shed direct sunlight upon the open water. I knew catching these risers would be difficult but I couldn't resist. I think this is where my second wind kicked in!
I hurriedly assembled my Scott rod and took to the river. I soon found the slow water risers didn't want anything to do with any of my imitations no matter how small a pattern I offered to them. I elected to wade upriver to more fast moving water that the fish wouldn't have time to thoroughly examine my offerings as they drifted by. It took some time, in the daylight I had left, before finding out that a few trout were willing to rise to a #12 Drake pattern bobbing in the quick wavy current. I finally kept a hold and got a small frisky brown trout to the net and after that I hooked two others that released sooner than I expected. When no other trout seemed interested I switched to a #14 Light Cahill. The action was quick in the fast current and I had to be ready at all times for the sudden rises to my fly. I hooked into two more before complete darkness. Almost ready to leave, I cast out the fly a few yards in front of me as I stood, knee deep, mid-stream in the riffling current. A fish rose to the fly and I set the hook. The brown trout dove beneath the wavy water and fought with vigor before I got him netted.
After releasing him I couldn't resist but to fish into the darkness as I heard other fish feeding top-water. I cast out into the water with eyes wide open. After missing a couple without quick enough reactions, I told myself to forcefully set the hook. Because of the darkness I didn't know how much slack line lay atop the water after the fly touched down. On one cast, towards a slower run, I heard and saw the white water splash beneath the star lit sky. I forced my rod back quickly like setting the hook into a steelhead. I felt the fish instantly, I felt the line tension in my fingers and the rod flex in my grip. I felt the rod tip swing back and all tension lost. I was too forceful and the tippet broke somewhere between my knotted tapered leader and fly.
With my headlamp on I picked out the biggest parachute fly in my box and tied on the tan bodied #12 2x March Brown. Within five casts I hooked into another fish but after that came to the realization that I should be calling it quits.
After changing into driving clothes I drove towards Tyrone and rte. 99. Heading north, I pulled out an Arturo Fuente Lonsdale-size cigar with a Candela wrapper. The jade color outer leaf gave off a fresh sweet grassy smell as I call it. Wetting the outer leaf with wet lips I took in the aroma. I nipped off the end with my cigar cutter and held the cigar between my lips a second or two before lighting up.
Another just reward for another successful, entertaining fishing expedition with new acquaintances and past fishing buddies.
I put the van in cruise control and glanced over at the fireworks exploding and sprinkling color into the dark sky from Del Grosso's Amusement Park.
I looked at the radio clock and figured I'd be home around 11:30pm or so.
I was off by 15 minutes.
______________________doubletaper
little 'j' brown
Dan with another release